It's raining and cold. I have today off work. Seems like a perfect time to get going on all of that holiday baking!
These are Peanut Butter and Jelly Thumbprints.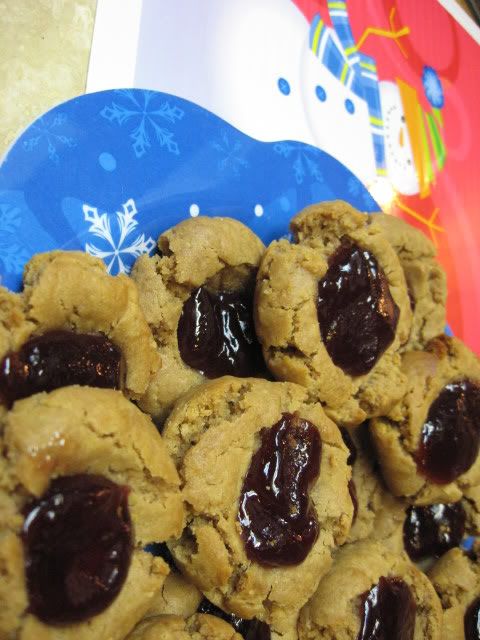 Peanut Butter and Jelly Thumbprints
2 cups peanut butter*
2 cups all purpose flour
1 cup of your favorite flavored Jam or Jelly
1/2 teaspoon baking powder
1/2 teaspoon baking soda
Additional Jelly or Jam for topping
Preheat oven to 350 degrees. Prep a cookie sheet by either lining with parchment or a silicone baking mat. In a mixing bowl, sift together flour, baking soda and baking powder. Add in peanut butter and jelly. Mix well. Make sure all ingredients are well incorpaorated. Using 2 tbsp of dough, roll into a ball and then flatten slightly, into a disc shape. Repeat and place on cookie sheet. Bake at 350 for 8 minutes. Remove from oven and make a depression in each cookie (I like to use my measuring spoon, the tbsp size, because it has a nice round, deep well.) Fill depressions with one teaspoon of additional jelly or jam. Bake an additional 8 minutes. Cool on a wire rack.
*Every type of peanut butter yields a different moisture content. If your peanut butter is very wet, you may need a little extra flour. If it is very dry, less. This recipe was made with store brand creamy peanut butter.
Yield: 30 cookies
STAY TUNED! More to come shortly!