When I want a real meal, I will take the time to make a full blown mac and cheeze. Whether it is the
Cozy Inside
recipe with its nutty crust or
VCON's
Mac Daddy with its tart and tangy noochy sauce, or any of the plethora of macs out there on the interwebs. BUT when I think back to my childhood, I have very fond memories of that flourescent orange stuff that took only a few minutes longer to make than it took to boil the pasta.
Enter
"Cheater Mac'n'Cheeze."
My quick, easy, cheater recipe for a creamy delicious bowl of kid-friendly mac.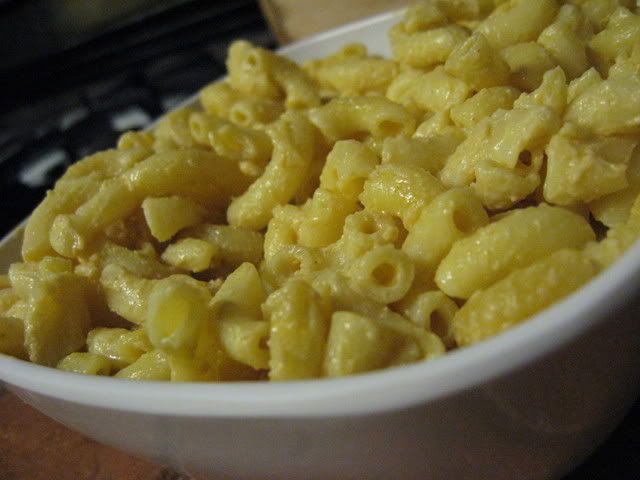 Ingredients
1 pound of elbow macaroni, prepared in salted water
1/2 cup vegan sour cream (like Tofutti Better than Sour Cream)
1/2 cup vegan margarine (Earth Balance, of course)
1/2 cup nutritional yeast
2 tbsp white miso
2 tsp paprika
2 tsp garlic powder
1 tsp ground mustard
salt and pepper to taste
Directions
Prepare pasta. Drain and return to the pot. Throw in all of the ingredients and mix together well. Done.