I totally stole the idea from
Tracy over at A Veg*n For Dinner
. She has some amazing seitan creations. I admit that I am not as "careful" about my presentation of these ribz as she was, but I thought these ribz were fantastic. Although I did steal her method for using "bonz," I came up with my own recipe for the "meat." I baked mine on Saturday night and threw them into the fridge. On Sunday, I threw the whole rack on the grill to warm 'em up and give them an even smokier flavor.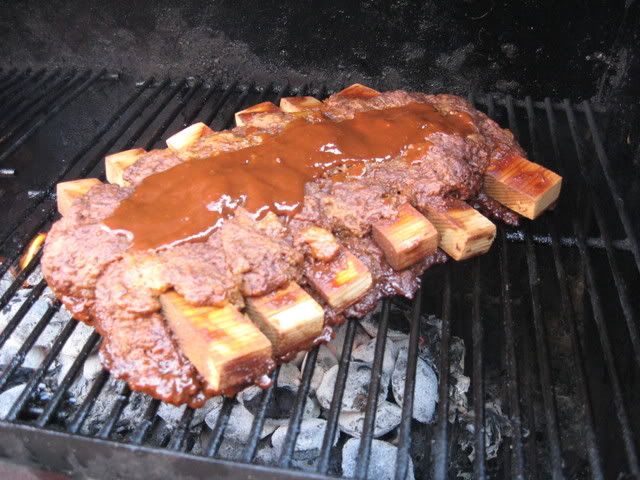 Chipotle Barbecue Ribz on Cedar Bonz
Dry Ingredients
3 cups gluten flour
1 cup whole wheat flour
2 tbsp garlic powder
2 tbsp granulated onion
2 tbsp black pepper
2 tbsp chipotle powder (This makes 'em pretty spicy, feel free to reduce the heat if you need to.)
6 1 inch cedar bones (optional)*
Wet Ingredients
+/- 1 cup veggie broth**
1/3 cup olive oil
1/3 cup Bragg's or soy sauce
1/3 cup of your favorite barbecue sauce (I used a chipotle hickory flavor)
extra bbq sauce for basting
Directions
Preheat oven to 300 degrees. Line a baking pan with foil. In a large mixing bowl, mix together all of the dry ingredients. Add in the wet ingredients and knead about 5 minutes. Let mixture rest about 20 minutes. Pour a generous amount of barbecue sauce into the bottom of the baking pan. If using bonz, divide your "dough" into 2 equal pieces. Press one piece into the bottom of the pan, until it is in the shape of a large rectangle. Lay in the bonz equally apart from eachother, press the other piece of dough onto the top of the bonz, making sure to press in between the bonz so that the seitan sticks together. If you are not using the bonz, simply spread your dough into a nice flat rectangle. Spread another layer of barbecue sauce all over the top. Cover the entire pan tightly with foil and bake for about 75-90 minutes.
*If you can get your hands on a food safe cedar plank, cut it into 1" bonz uzing a saw, and then sand down the edges. Soak the bonz in warm water for at least an hour before use.
**If you find you mixture too dry, just add in a bit more broth.