I truly miss the Budget Gourmet Swedish Meatballs frozen dinners I used to get for $1 when I was living in my first apartment. Oh well. These are better anyways.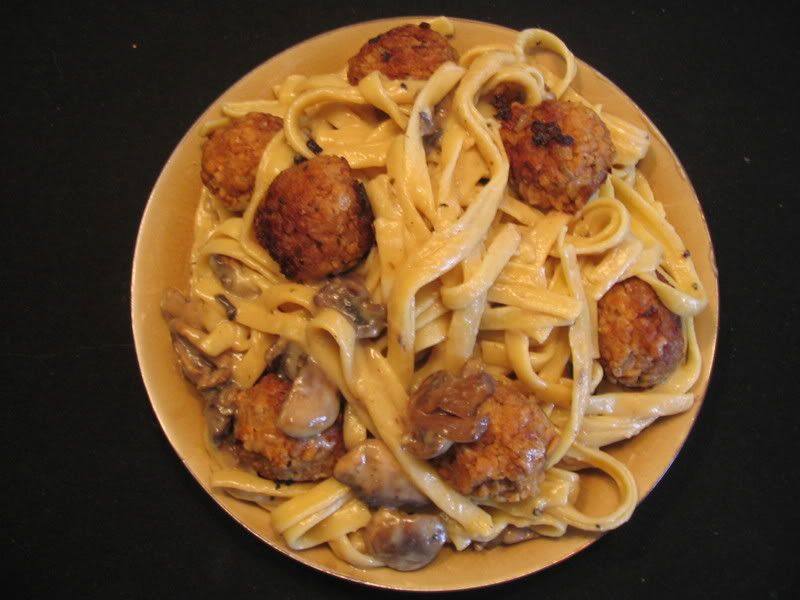 TVP Meetballs
makes about 20 balls
Ingredients

2 cups TVP granules
1 ¾ cups veggie broth (or 1 bouillon cube dissolved in water)
1 medium yellow onion, minced
2 cloves garlic, minced
2 tbsp olive oil
½ cup vital wheat gluten flour
1 tbsp Tamari or soy sauce
½ tsp fresh cracked black pepper
½ tsp oregano
½ tsp chili powder
½ tsp garlic powder
½ tsp onion powder
Additional oil for frying
Directions
Reconstitute TVP granules by placing them in a microwave safe bowl, pouring the broth over the granules, covering tightly with plastic wrap and placing them in the microwave for 5-6 minutes. Alternatively, you can pour boiling broth over the dry granules, cover and let sit for 10 minutes. In a skillet, saute the onions and garlic in olive oil until translucent and fragrant. About 5-7 minutes. Remove from heat mix in the flour, Tamari and all of the spices. Let sit until cool enough to handle. With your hands, form balls about 1 ½ inches in diameter. Use a lot of pressure when forming your balls, tee-hee, you don't want them to fall apart. Lightly fry them in a small amount of oil, rolling them around in the pan to brown on all sides.
Swedish Meetballs

makes 4 big ol' plates
what makes a meatball swedish? they serve them at IKEA? Anyhow, traditionally, swedish meatballs are served with a beef based brown gravy. i serve 'em over fettuccine with a brown mushroom sauce.
Ingredients
1 prepared recipe of meetballs, above
1 pound of fettucine noodles, prepared in salted water according to package directions
1 8oz package of mushrooms (I buy mine pre-sliced!)
2 tbsp olive oil
2 tbsp vegan margarine (I use Earth Balance)
1 cup soymilk
½ cup water
1 tbsp cornstarch
2 tbsp all purpose flour
2 tbsp white miso
2 tbsp tamari
1 tbsp onion powder
1 tbsp garlic powder
Fresh cracked black pepper to taste
Directions:
Prepare meetballs and set aside. While the pasta is boiling, prepare the mushroom sauce. In a heavy bottomed skillet, on medium-high heat, saute the mushrooms in the olive oil until the have reduced in size by half. Add the margarine and continue to saute a few more minutes. In a measuring cup, dissolve the cornstarch and flour into the water and soymilk. Dissolve until there are NO LUMPS! Add the miso and tamari to the skillet. Sprinkle in the onion and garlic powder. Slowly add in the flour mixture, stirring constantly and continue to simmer until you reach your desired thickness. Drain the pasta and mix sauce into the noodles. Top with the meetballs and serve warm.