Sunday afternoon, my papa came over to see the new place. We barbecued burgers, corns, beans...and had sangria, and really enjoyed the afternoon. My papa loves spicy stuff, so I made this pasta salad for him.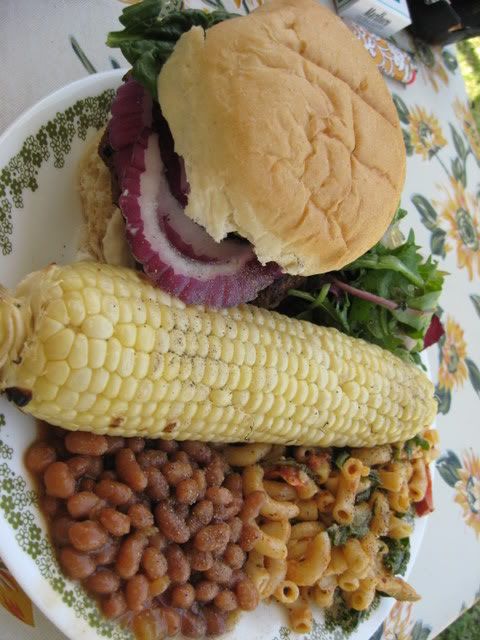 SPICY Mac Salad
Ingredients (makes a BIG ol' bowl)
1 lb pasta of choice, prepared according to package directions
1 recipe dressing (below)12 oz roasted red pepppers, cut into thin strips
14 oz artichoke hearts, roughly chopped
2 cups fresh spinach, chiffonade
10 large fresh basil leaves, chiffonade
Directions
Prepare, drain and cool pasta. Mix together with the dressing. Add in the peppers, artchoke hearts, spinach and basil. Toss until well combined. Cover and refrigerated several hours before serving.
For the Dressing
1 cup vegan mayo
1/3 cup olive oil
1 tbsp apple cider vinegar
2 tsp cayenne pepper
2 tbsp garlic powder
2 tbsp onion powder
2 tbsp brown mustard
2 tbsp agave nectar
1 tbsp paprika
Sea Salt and Black Pepper to taste
Directions
Whisk all ingredients together. Refrigerate until ready to use.