Sunday morning with my dearest girlfriends...what a treat! I made these muffin cup quiches for the event. Not all the girls were vegan, or even vegetarian, but every last one of them got gobbled up, so I would have to say they were a big hit.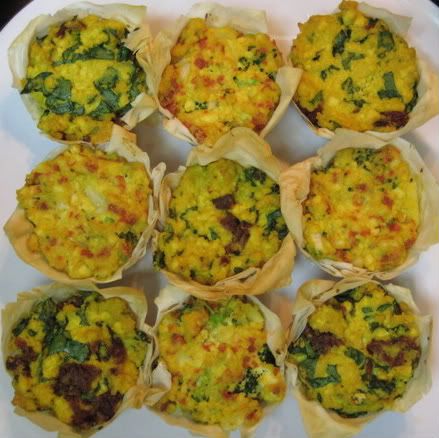 I made two variations, a mediterannean influenced sundried tomato and spinach one, and a brocolli "cheddar"version, complete with fake bacon. I used phyllo dough for the crusts. I will give you the recipe for the base quiche mix, and let you know what I added in for the different variations, but seriously, you can make these any old way you want to. In fact, you don't even have to make individual cups. One recipe would fill a premade pie crust quite nicely.
Basic Quiche Mix
Ingredients (makes 12 muffin cup sized quiches)
1 block of extra firm tofu, pressed, drained and crumbled
1 tsp onion powder
1 tsp garlic powder
1/4 tsp turmeric
1 tbsp yellow prepared mustard
1/4 cup nutritional yeast
1/4 cup chickpea (besan) flour
1/4 cup olive oil
Directions
In a mixing bowl, add all ingredients and mush it all together with your hands until well incorporated.
For the mediterranean style quiche I added 2 cups of spinach leaves, chiffonade, and about 6 sundried tomatoes packed in oil, chopped into little pieces.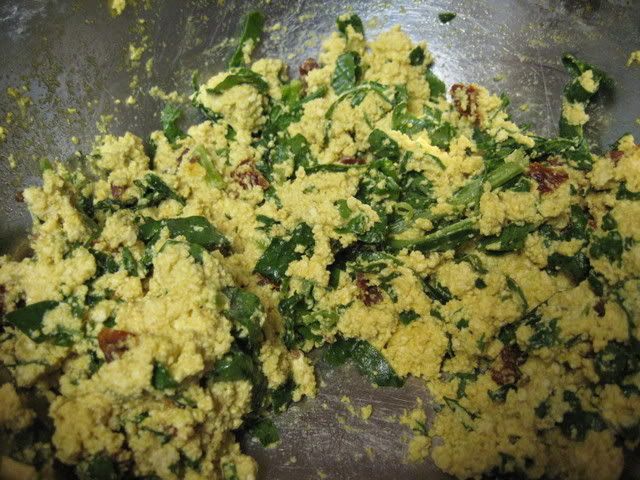 For the broccoli "cheddar" quiche. I added 1/2 of a medium white onion, diced finely, 1 tablespoon of mello white miso, about 2 cups of brocolli florets, and about 1/4 cup of imitation bacon bits.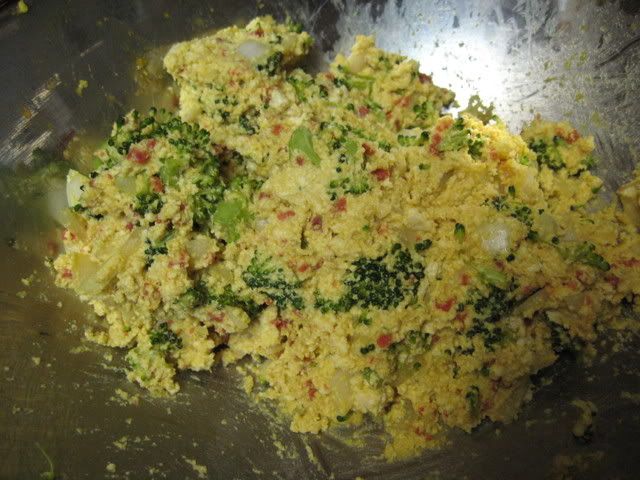 For the crust, I used phyllo dough. First, you need to prepare your muffin pans by spraying them liberally with nonstick spray. Following the instructions on the box, I carefully unrolled the package of dough, and, using a pizza cutter, I cut the dough into 8 even pieces. Then I oiled each layer lightly, and grabbed about 3 or four layers for each "cup". I pressed it into the muffin pan, and then scooped some of the quiche mixture into the cup.
I baked mine at 350 for 15 minutes. Checking them at 10 minutes. I am still experimenting with my electric oven, so no guarantees to accuracy of timing and temperature. Take them out of the oven when the crusts begin to brown.