It's coming up on summertime. Picnics and trips to the beach are well on there way. I used to love the egg salad sandwiches my mom used to make for us. They were pretty plain. No onions, no pickles, no capers. Just eggs, mayo and a smidge of mustard. Well, I'm all grown up now, with grown up tastebuds.
Here is my take on my childhood favorite.
All served up on some sprouted grain bread



If you are worried about the fat, you can reduce the amount of oil in the pan, or eliminate it all together and use an olive oil cooking spray instead. For the mayo, I think Trader Joe's sell a way less fattening vegan mayo, or you could use plain soy yogurt instead, but it will be more tangy. I didn't make this recipe a low fat recipe, because made as written, it tastes SOOOO GOOD! As always, try to use organic ingredients when possible. If you really want a grown up version, saute up some shiitake mushrooms along with the onions and garlic. Yump!
Tofu Egg Salad
2 tbsp olive Oil
12 oz block of extra firm tofu (pressed, drained and cubed*)
4 cloves garlic, minced
1 cup, or 1/2 of one yellow onion, diced
1/4 cup nutritional yeast
1/4 tsp turmeric
1/2 tsp ground mustard
1/8 tsp dill
1/8 tsp paprika
1/2 cup vegan mayo
1 tbsp yellow or dijon mustard
Salt & Pepper to taste
Black Salt, to taste to add that egg-y flavor (optional)
In a skillet, at medium/high heat place oil, onion and garlic. Saute until fragrant. Add tofu (cut into tiny little 1/4 inch cubes and saute 10-12 minutes or until golden. Reduce heat add spices and nutritional yeast. Fold until well coated, turn off heat and let cool. Once cool, add Mayo and mustard. Mix well. Add salt and pepper to taste. Keep refrigerated until ready to serve. Serve on sprouted grain bread, in a whole grain tortilla, or on a bed of greens. Makes enough filling for 8 wraps or sandwiches.
*I like to cube my tofu for this recipe, because I like the toothier feel to the cubes, but I have also crumbled it as well. Crumbling makes it more "yolky." Cubing it makes it more "eggy."
Yield: 8 Servings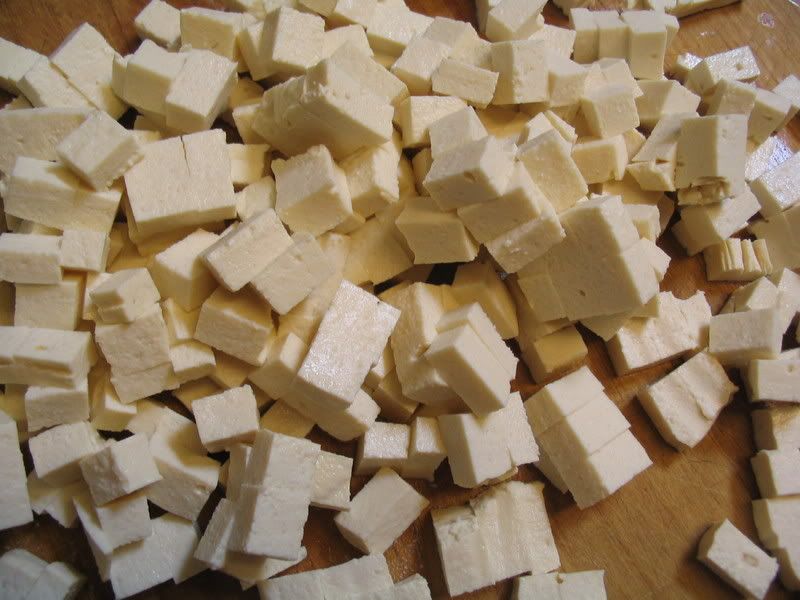 When I say chop it up into tiny cubes, I am not kidding!!!
Sautéing up the tofu gives this salad a much better flavor then using it raw.