There has been so much going on lately, that Thanksgiving has completely snuck up on me! I fear I have no time to experiment with new recipes this year, so I will be depending on some of my tried and true favorites to get me through this holiday.
Going way back, I will make a double batch of Greek Stuffing. It is adapted from a recipe my cousin Jerry made for us on Thanksgiving many moons ago, that was full of fatty ground beef and lots of dairy butter. When I recreated it as a vegan dish and submitted the recipe to Better Homes and Gardens recipe contest, guess what? It won. Haha.
If I have time, I will make a Seitan en Croute, if not, I will rely on a classic
Tofurkey Roast
to center my plate.
And for dessert I will most likely enjoy a slice of my super easy, and super tasty Pumpkin Cheesecake Pie.
Veganized Family Favorite! Greek Stuffing made with seitan instead of ground beef.
Greek Stuffing
2 1/2 cups uncooked wild rice blend
500 grams vegetable bouillon (2 cubes)
24 ounces prepared seitan (about 3 cups) chopped into tiny little pieces
1 large onion, diced
6 cloves garlic, minced
4 teaspoons cinnamon
1 cup golden raisins
4 tablespoons tomato paste
1 cup pine nuts
2 teaspoons sea salt
1 teaspoon fresh cracked black pepper
Prepare rice, according to package instructions adding bouillon cubes to the water.
Saut
é
seitan, or other meat substitute, in a separate pan in a smidge of olive oil, until browned.
Use about half of the olive oil in a large pan (I use a wok) and sauté the onions and garlic on medium high heat for about 5 to 7 minutes, or until onions are translucent and garlic is fragrant.
Reduce heat, add the seitan, then all other ingredients to the pan, mix well and remove from heat.
After rice is fully cooked, add to the sautéed ingredients along with the remaining olive oil and mix it all together.
Yield: 8 servings
Seiten en Croute: A savory moist seitan roast wrapped in flaky puff pastry.
Seitan en Croute: Inside Shot
Seitan en Croute
2 cups (288 g) vital wheat gluten flour
1 cup (120 g) whole wheat flour
1/4 cup (30 g) nutritional yeast
1 teaspoon dried parsley flakes
1 teaspoon paprika
1 teaspoon garlic powder
1/2 teaspoon black pepper
1 cup (235 ml) beef flavored vegetable broth (or plain veggie broth)
1/2 cup (120 ml) extra-virgin olive oil
1/4 cup (60 ml) soy sauce or tamari
3 tablespoons (50 g) tomato paste
1 tablespoon (45 g) prepared stone ground mustard
2 teaspoons liquid smoke
2 sheets vegan frozen puff pastry

Preheat oven to 350°F (180°C, or gas mark 4).
Have ready a baking sheet lined with parchment or a silicone baking mat such as Silpat.
In a large mixing bowl, mix together, gluten flour, wheat flour, nutritional yeast, parsley, paprika, garlic powder, and pepper.
In a separate bowl, mix together broth, oil, soy sauce, tomato paste, mustard, and liquid smoke.
Add wet to dry and knead together until well incorporated and until moist dough forms.
Let rest 20 minutes.
Thaw puff pastry according to package instructions.
Form into a loaf (similar to a meat loaf shape) and place in the center of the baking sheet.
Bake, uncovered, for 35 minutes. Remove from oven and let cool slightly.
Increase the oven temperature to 375°F (190°C, or gas mark 5).
Cover the loaf entirely with one of the pastry sheets, tucking the edges underneath the loaf.
Slice the other sheet into 10 even strips for weaving. Weave the strips, on the diagonal across the top of the loaf. Tuck loose ends under the loaf.
Sprinkle a little paprika and parsley on top for color.
Return to the oven and bake an additional 20 to 25 minutes, or until pastry is fluffy and golden brown
.
Allow to rest about 15 minutes before serving.

Yield: About 8 servings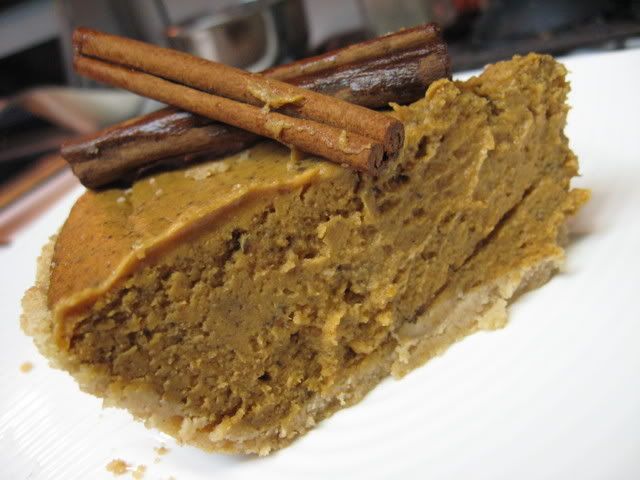 Pumpkin Cheezecake Pie
1 (9-inch) pie crust (you can make your own, but I went with a premade graham crust for this one)
2 (8 ounce) containers of vegan cream cheese
1 (15 ounce) can of pure pumpkin puree
1/2 cup brown sugar
1/2 cup sugar
3 tablespoons arrowroot powder
1 teaspoon ground cinnamon
1/2 teaspoon ground ginger
1/4 teaspoon ground nutmeg
1/4 teaspoon ground cloves
Preheat oven to
350°F (180°C, or gas mark 4).
Beat all ingredients together using an electric mixer until smooth.
Place a pan of water (about 1-inch deep) on the bottom shelf of the oven.
Line a cookie sheet with foil.
Place the pie on the foil lined sheet and place in the oven on the top rack.*
Bake for 45 minutes. Remove and let cool, place in refrigerator until ready to serve, and to set even more.
*This step helps keep the moisture in the oven and prevents the pie from cracking on the top!