I know, I know...it seems I have been neglecting this blog. I'm sorry.
Celine
and I have been feverishly finishing up the
500 Vegan Recipes
book, and I have been so busy in the kitchen, I haven't had much time to play in the blogosphere.
I promise that after the first of May, I will have a lot more leisurely cooking time and more time for blog posting fun!
To whet your appetite, here are some pictures of a few (16 out of 250!) things I have been working on: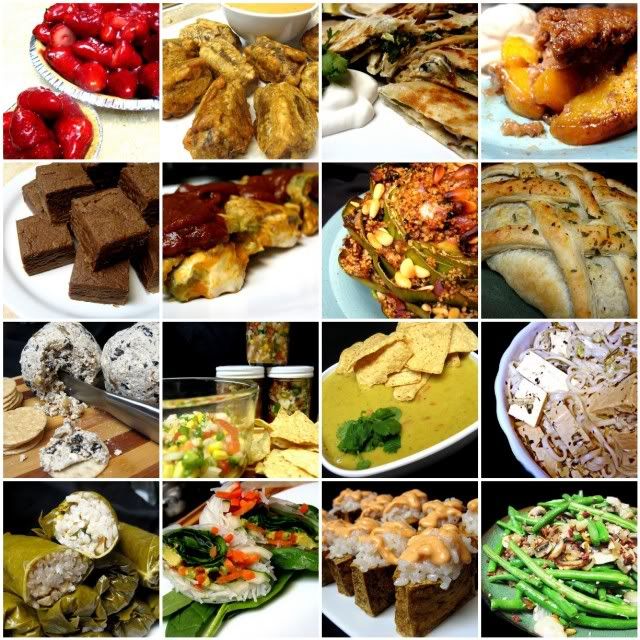 1.
Piled High Strawberry Pie
, 2.
Seitan Poppers & Buffalo Sauce
, 3.
Black Bean, Corn & Roasted Chile Quesadillas
, 4.
Peach Cobbler with Homemade Vanilla Ice Cream
, 5.
Peanut Butter Chocolate Fudge
, 6.
Chile Relleno with homemade Enchilada Sauce
, 7.
Stuffed Artichokes
, 8.
Seitan en Croute
, 9.
Currant and Walnut Veganzola
, 10.
Salsa Fresca
, 11.
Nacho Queso
, 12.
Coconut, Lemon and Herb Tofu with Udon
, 13.
Yalanchi Dolmas
, 14.
Avocado Spring Rolls
, 15.
Home Made Inari
, 16.
Green bean almondine
Oh, and don't think I forgot about the burgers! Once this is all said and done, the Burger book
WILL
get it's final proofing and then available for all to enjoy!